Posts
Lutheran cemeteries in Lublin and Chełm areas
2019-11-12
I have had an opportunity to tour Lublin and Chełm area in eastern Poland lately. One of the main purposes has been to look for existing lutheran cemeteries in villages, where ancestors of my guests – german colonists settled in the second half of XIXth century. The end of german colonists history in Lublin and Chełm areas was in year 1940, when Nazis resettled them to Poznan area and in reverse resettled Poles from Poznan area incorporated to the third Reich to the abandoned houses of german colonists. At the end of WWII most of them escaped from the incoming Soviet Red Army to Germany and after the war left for Canada and other countries.
Today most of the cemeteries abandoned and deteriorated over passing time nearly disappeared. Only some typical plants, like periwinkle or acacia trees mark the place where the cemetery existed. In this article, I would like to provide information about lutheran cemeteries, where any gravestones remained.
1. Bielany Małe.
German colony in Bielany Duże and neighbouring Bielany Małe was established in 1869. It was not large – 3 families lived in Bielany Duże and 4 in Bielany Małe before WWII.
Remnants of the lutheran cemetery in Bielany Małe can be found at the southern side of the main local road in the bushes.
Only one cast-iron cross, parts of base and fence commemorating August Klenke (1851-1904) can be found there.
2. Cyców.
Lutheran cemetery in Cyców, where german colony was established in 1880/1881 can be found at Nowa street. All remaining gravestones were placed near the street forming a lapidarium.
Following names can be found at existing gravestones:
Sigismunt Gefrejter (1897-1909 ?), Emma Gefrejter (1899 ?-1901), Adolfine Gefrejter (1899?-1903);
Ema? Rolkows…;
Adolf Bartsch (1860-1904);
Matildo Reichwald (1899-1909), Wanda Reichwald (1909-1912), Arthur Fenske (1909-1909), Michael Fenske (1883-1911);
Ema Fenske (1925-1938);
Adolf Klingbeil (1870-1919);
Rozamunda Jetzke (1883-1911);
Adelaide Harke ?
… Welke?
3. Bukowa Wielka.
German colony in Bukowa Wielka was established in 1871. Remnants of lutheran cemetery can be found on a forested hill near Piaski village on eastern side of the road Piaski-Bukowa Wielka.
Only one gravestone of Olga Krause (1905-1930) remained.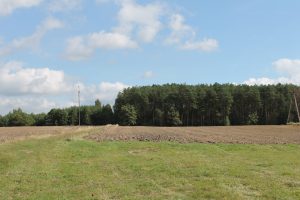 4. Bukowski Las.
German colony in Bukowski Las was established in 1873/1875. Remnants of the cemetery can be found in a forest on the left side of a road from Rudka Łowiecka to Bukowski Las, just near the first turn right. It is however very hard to find.
We found three gravestones, but it is possible probably to find more under the layer of leaves and forest cover:
Juliana ? Scholl;
Emma Pachal;
Ferdinand Lehmann;
5. Malinówka.
Malinówka was established in 1880. Remnants of the cemetery can be found inside the open field in a forest behind a fire brigade building. We have found three gravestones there, two with surname information:
Günzler;
Edward Rossnagel – cantor and teacher in Malinówka (1883-1934). Inscriptions on this gravestone were written in german and polish languages!
6. Radawczyk.
German colony in Radawczyk was established in 1878. It was a baptist colony. On a southern side of a road from Radawczyk to Radawczyk Drugi, remnants of baptist cemetery can be found in bushes with only one legible gravestone mark, which commemorated Andreas Schmidt.
Leave a Reply
COMMENT

(Comment will appear on the site after approval by the administrator.)



E-MAIL

(optional - your email address will not be published)


NAME

(optional)